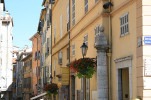 Grasse is situated 16 km north of Cannes in southern Provence. The town was originally best known as a centre for leather tanners, but this gave way to perfume production, for which the town is still famous today.
There is an International Museum of Perfume here and four important perfume producers are still based in the town and can be visited. But there is much more to Grasse than perfume…
<span class="font-size middle"><strong>Explore Grasse</strong></span>
Grasse is a pleasant and quite a sizable town, with the old town and the region around Place aux Aires a good place to start your visit.
The old town is the highlight in Grasse and has numerous ancient buildings and a great deal of character – it is very much a traditional Provencal town despite being such a popular tourist destination,and the old town is one of the most extensive in Provence, not unlike the old town in Nice.
Many of the tall narrow houses are painted in pastel orange colours to brighten the narrow streets, and there are numerous shops, cafes and restaurants in the open squares that you will discover as you explore.
One slightly curious feature to Grasse – while the town centre is impeccable, if you wander 100 metres off the well-trodden tourist path you find yourself in a different environment, much more 'down to earth' with original 'unpainted' houses along alleys with washing hanging out to dry – a different experience altogether to the 'tourist centre'.